A sports and wine project by Autajon Étiquettes Marsens
March 7, 2023
A beautiful story that inspired two articles published in the Swiss newspapers the daily
24 Heures
and the weekly
Le Messager
.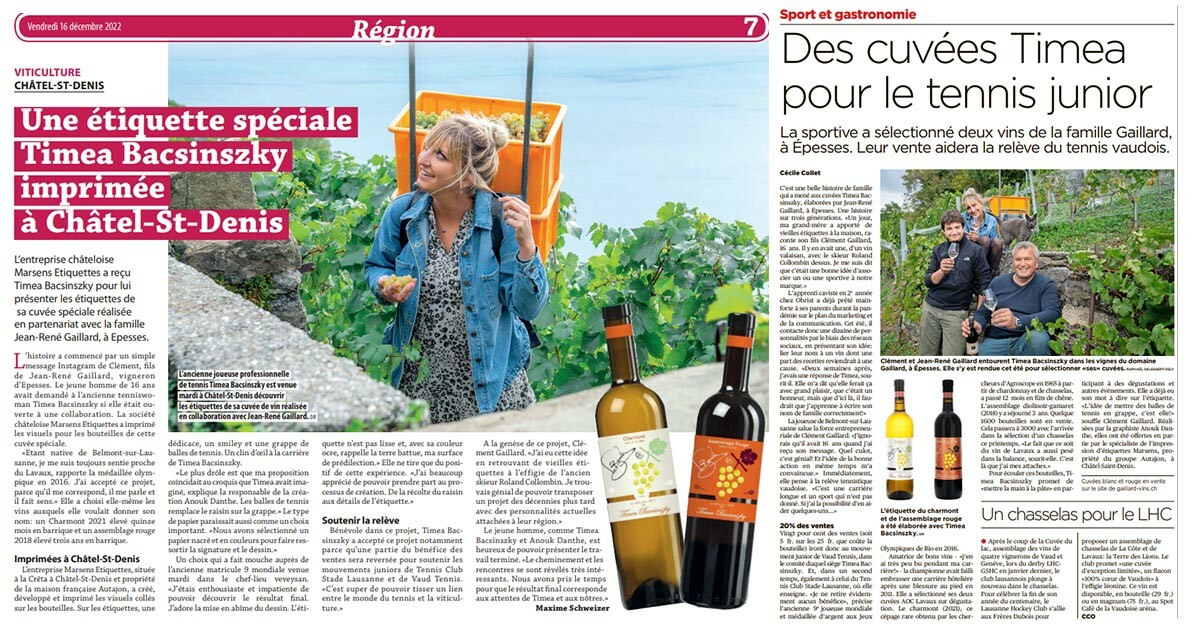 The origins of the collaboration.
Timea, originally from the Lavaux region was contacted by Clément Gaillard for a project combining sports and wine.
"It's great to be able to connect the tennis world with wine-growing."
Honored by this invitation, the sportswoman had the chance to choose the two wines she would give her name to: a
2021 Charmont
and a
2018 red blend
.
«The fact that it is Lavaux wine also carried weight, this is where I have my ties»
«The idea to do a good deed at the same time convinced me »
Local labels representative of the collaboration.
The essence of the project being local, it is quite natural that the challenge of creating and manufacturing the labels was taken up by Autajon Étiquettes Marsens, our site based in Chatel-Saint-Denis, just 15 minutes away from the vineyard of Jean-René Gaillard.
Anouk Danthe, head of creation of our Swiss site, created the label design imagined by the player. A visual that represents her career: an autograph, a smiley face and a bunch of grapes made of tennis balls.
A pearly and colorful paper was selected; a wise choice that brings out the signature and the visual. The ochre color is an echo to the clay courts, Timea's favorite surface.
Once the aesthetic validated, Autajon Étiquettes Marsens developed and printed the labels that dress the bottles of this special cuvée.
The Autajon Group
is very happy to have participated in
this unique local collaboration, which carries a real human ambition
. Timea Backsinsky draws up a positive report of this experience and hopes that the result will meet consumers' expectations.
"I really appreciated to take part in the creative process. From grape harvesting to label details."