Autajon : Key player in glassine recycling in France
July 21, 2022
Following the impetus of its President, Gérard Autajon, the continuous quest for environmental performance has accompanied the development of the Autajon Group for over 20 years. One of the ways we do this is through the 3R Policy: Reduce, Reuse and Recycle.
This policy applies, of course, to our own consumption and production, but also to customer support. Since 2018, AUTAJON has been actively involved in the recycling of glassine (backing paper), which is ultimately the most important production waste from the application of labels.
Understanding labels and glassine
The different types of labels
Notre Autajon Étiquettes Division, created in 2002, specialised in the creation and printing of labels for the Wines & Spirits sector, offers two main products: dry labels (wet glue labels) and self-adhesive labels.
A dry label needs to be glued when applied by adding a "wet glue". A self-adhesive label is composed of a customizable facing, an adhesive and a liner: it enables direct application. Traditionally, "conventional" wine labels were dry, but since their introduction, adhesive solutions have become predominant. In Europe, 80% of wine labels are adhesives while only 15% are non-adhesive by 2020 (according to AWA – Alexander Watson Associates).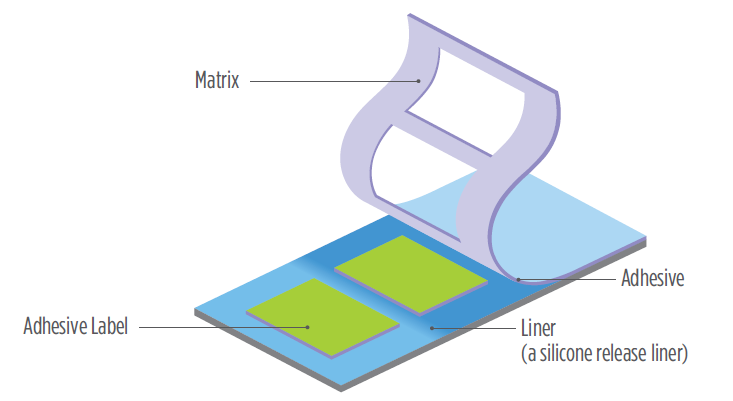 Descriptive diagram of an adhesive label (source CITEO)

Self-adhesive labels: clear advantages, at the cost of recycling
The dominance of self-adhesive labels also implies the increase of a new production waste: the liner (also called backing). Indeed, once the adhesive label is separated from its backing, the latter becomes useless. There are two types of backing: plastic backings (made of PP or PET plastics), and glassine backing paper.
It is estimated that glassines liners represent between 85% and 90% of adhesive wine label backings(according to Le Vigneron Champenois). They are made of paper and a layer of silicone that allows releasing and applying the label. The association of silicone with paper makes glassine complex to recycle and incompatible with the classic "paper/cardboard" sorting system. It was from this observation that the desire to develop glassine recycling was born.
Glassine liners: an important process waste to gather and recycle

AUTAJON : and essential link in the collection of glassine waste

In France, the annual consumption of glassines before 2018 was estimated at more than 50,000 tons; of which only 5% are reportedly collected (according to UNFEA). Since 2018, Autajon is proud to be part of an initiative that aims to spread and facilitate the collection to reverse this trend.
As a printing company, we create labels in a wide range of shapes and sizes for our customers. For our self-adhesive solutions, we estimate that the liner represents about 35% to 45% of the label: that is just waste for our customers once the labels are applied. It is therefore obvious to bridge the gap between customers and partners, to offer a recycling alternative to ordinary landfill or incineration practices.
An initiative that overcomes the glassine recycling constraints

In partnership with Avery Dennison, Cycle4Green and Lenzing, the Autajon Étiquettes Épernay took part in the launch of a pilot program in Champagne to collect glassines from 2018. An initiative with positive results: that has since been consolidated and extended throughout France. In the past, several expensive and restrictive collection solutions existed: they required the wineries to store a very large amount of glassines and to pay for their recovery.
With its program, Autajon is helping to overcome these constraints to offer a solution that is advantageous for everyone, and above all for the environment. The program is built on three collection channels :
Wineries and packers already storing a very large quantity of glassines deal directly with recycling stakeholders;
Autajon provides large customers with cardboard boxes dedicated to the storage of glassines. Once full, we collect them for mass storage on our own production plant;
Forst smaller customers, we collect the glassines individually when delivering new rolls of labels and store it with the rest.
Autajon then undertakes to store about 12 pallets on the same production plant, i.e. 6 tons of glassines, before our partners collect them. This initiative allows us to offer a "turnkey" customer service that removes constraints while promoting the collection and recycling of glassines. We also add our own production waste: the excess of edges (space between the label and the edges of the reel), although representing a tiny part of the glassines collected, nevertheless contributes to their mass storage.
Successful results: more than 55 tons of glassines collected by AUTAJON in Champagne between 2019 & 2021
On the Autajon Étiquettes Épernay, pilot site alone, this action has made it possible to collect and therefore recycle : 9 tons of glassines in 2019, 11 tons in 2020 and 35 tons in 2021. This quantity has almost quadrupled in the space of two years for the Champagne region. These results are possible thanks to the dedication of Autajon's teams in implementing and offering this service, but also thanks to the enthusiasm of our customers for a more responsible approach.
Customer testimony : Hugues Pailley, Workshop and Packaging Manager, Champagne BOLLINGER
Our customers are essential to the success of this approach, and since the launch of our service, Bollinger has actively contributed to the collection and merge of glassines wastes.
"Certified ISO 14001, when Autajon offered to recycle the Glassines, Maison Bollinger immediately accepted, as this matches our CSR approach and our desire to recycle our wastes.
The logistical handling of our Glassines is simple and the process is fast. The provision of the boxes and the removal of the Glassines is taken care of by Autajon, which facilitates our efforts.
With an average of 750 kg/month, this has enabled us to significantly reduce our waste volume.
This is the type of action we want to keep developing with our suppliers."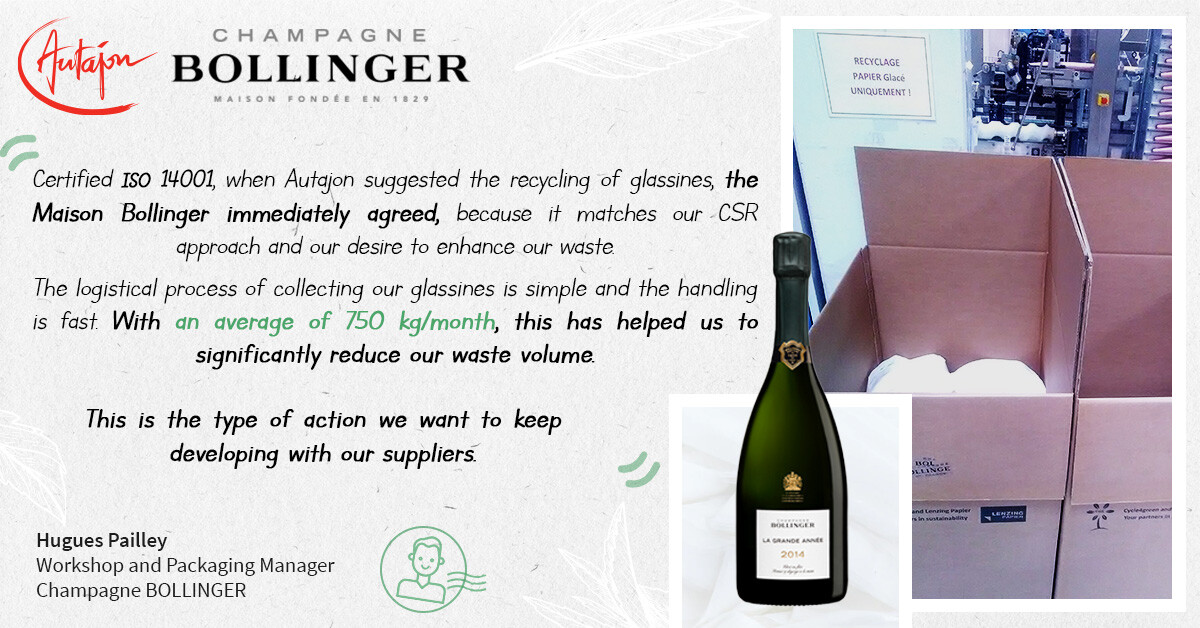 Autajon testimony: Delphine Hubert, involved in setting up the glassine collection service at Autajon Étiquettes Épernay
"

A challenge that requires excellent internal and external logistics (in terms of depositing boxes at our customers' premises, collection, storage and recovery) but which is bearing fruit. Indeed, since the service was set up, it has more than tripled:

9 tons recovered in 2019 ; 11 tons in 2020 and 35 tons in 2021!


As a result, more and more of our customers are joining the process. Today

, we have about 60 customers, including BOLLINGER, taking part in the process. Communication with our customers enables them to join in and is therefore and excellent lever for progress."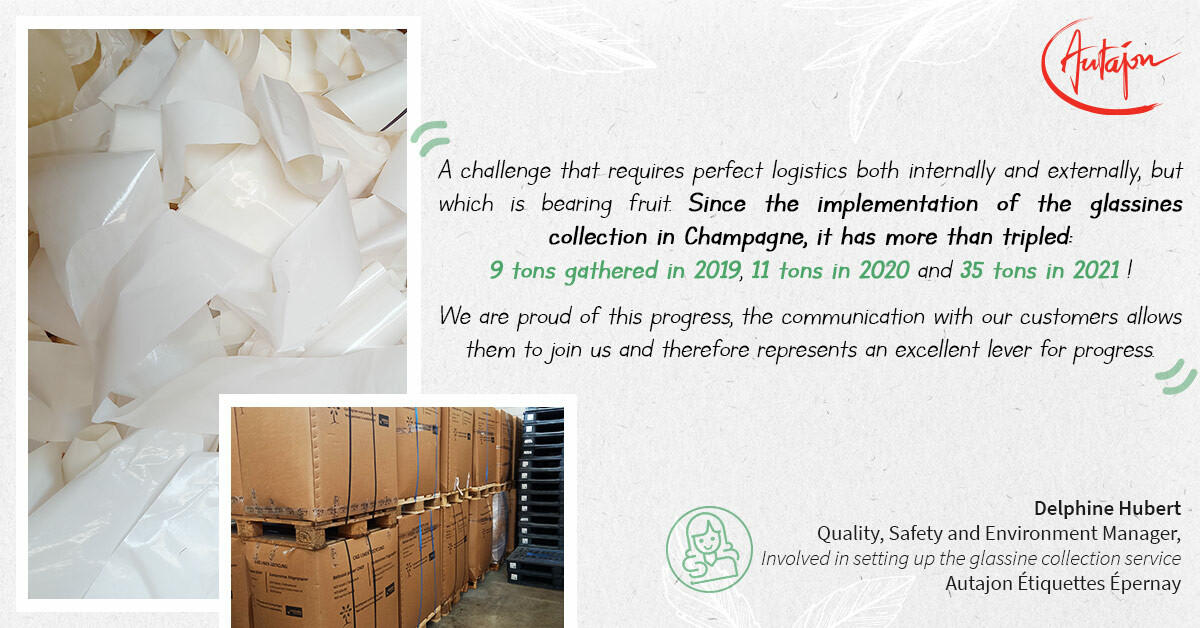 Keep on increasing the recycling of glassines

Giving glassines a second life
Once these glassines have been gathered by Autajon and recovered by our partners, they are reintegrated into an adapted recycling process. First, the paper and the silicone are separated. The paper part is then recycled to make new paper pulp, which will itself be reused to manufacture labels. This collection therefore allows us to participate in a circular economy system where waste is given a second life.
AUTAJON: Opening up glassine recycling to different markets
Autajon Étiquettes Épernay's customers in the Champagne are very enthusiastic about the glassine collection and recycling service. These positive and promising results have led us to spread this type of service on Autajon Étiquettes and Autajon Labels Divisions. Today, 50% of our French plants already offer or are developing a similar solution.
Contact us to find out more about our glassine collection programs at: